ARE YOU READY? ARE YOU SET? LET'S DANCE!
DSV LITTLE STREAMERS PRESCHOOL offer a fun, vibrant and engaging choice of classes for our tiniest dancers aged 2-5 years old! We understand what it is like to be parents and how busy your week can get – this is why we offer classes 6 days per week!
FIND A TIME TO SUIT YOU!
Click here to view our PRESCHOOL Timetable
READY SET DANCE, as seen on Nick Jr. will help your little one develop confidence, coordination and creativity in a safe, professional environment. With a major emphasis on fun, READY SET DANCE classes will be the highlight of your child's week! READY SET DANCE is a one hour combo class of Jazz, Tap, Hip Hop, Singing, Music and a whole lot of fun!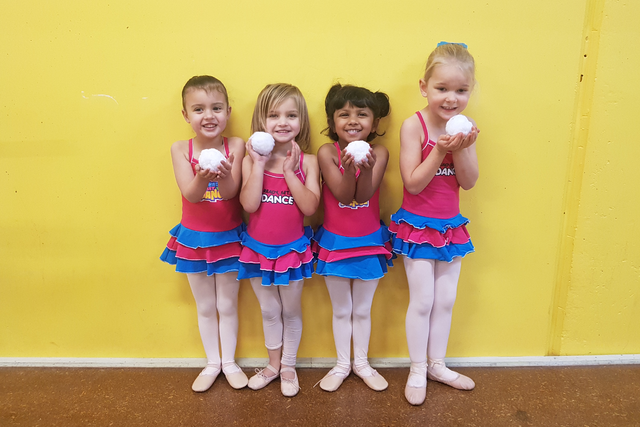 READY SET BALLET is a 30 minute magical ballet experience for 2-5 year olds. Explore creativity and gain confidence by going on a picnic with FREEZE and TWIRL, riding the tutu train to storybook lane all while having fun and learning the fundamentals of ballet!
TINY TUMBLERS classes introduce children to basic tumbling skills such as backward and forward somersaults, handstands and cartwheels. With a focus on developing gross motor skills, TINY TUMBLERS will have a tonne of fun whilst also developing coordination, balance and strength.
TAKE A LOOK INSIDE OUR READY SET DANCE CLASSES HERE AT DANCE STREAM VICTORIA!
2018 – WINNER – DANCE STREAM VICTORIA – OUTSTANDING ACHIEVEMENT IN CUSTOMER SERVICE
2019 – FINALIST – READY SET DANCE STUDIO OF THE YEAR; READY SET DANCE TEACHER OF THE YEAR & READY SET BALLET TEACHER OF THE YEAR
MEET MISS TAMARA, OUR DIRECTOR OF OUR LITTLE STREAMERS, AND HEAR WHAT SHE HAS TO SAY ABOUT THE PROGRAM!
Get ready to dance! Your first week is on us!
Make new friends, dance up a storm and grow in confidence!